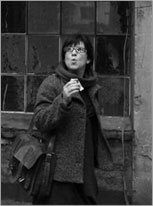 Małgosia Kalińska - I am the graduate of the Academy of Fine Arts in Łódź withthehonours  degree at Jewellery Design Department. Earlier, I graduated from the Public Secondary School of Art in Szczecin.
Moreover, last year I was granted the scholarship of the Ministry of Culture and National Heritage. I am also a member of Goldsmithing Artists' Association.
2006
all-Polish  Competition of Goldsmithing Ćwierć in 'YES' Art Gallery - Poznan, Poland
2007
International Competition of Goldsmithing Absolute Beauty, Art Gallery in Legnica, Poland

all-Polish Competition of Artistic Jewellery Presentations 2007, MCT Warsaw, Poland
Collective Exhibition of Poznan artists….. still nature and...- graphic arts and jewellery - the Kórnik Castle, Poland
More
Photo by Anastazja Gacparska.